The style of Blackwork was an evolution from the Traditional tattoo.
The style was evolved through Tribal Polynesian pieces, which featured large sections of black ink, shapes and swirls. These tattoos embodied a persons beliefs or affiliations. They also told great stories of myths or legends of their land.
The Yupiget women of St. Lawrence Island used Blackwork as a cosmetic enhancement, to distinguish them from the men, as it was a symbol of beauty. African and Asian tribes would mark themselves with Blackwork to symbolise a victory in battle or a mark of manhood.
The Maori people, known as Ta Moko, would mark themselves with this style as a status symbol within their tribe.
Dark Art, illustrative and graphic art, sketching and engraving, lettering and calligraphy have been categorised as Blackwork, if only black ink is used.
There's different ways that an artist can use blank ink on the body.
Blacking out sections of someones body to create large scale piece, bands around the arms fine line work and geometric geometric designs are a few variations of the Blackwork style.
As its detailed in the name, the artist will only use black ink within the piece. This is a representation of the ancient materials used such as charcoal, burnt wood or bone. Carbon is the primary ingredient that's been used for over 7000 years.
Our very talented artists Mikey and Tom specialise in Blackwork pieces.
@tomtattooer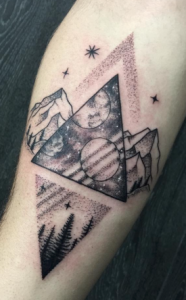 @miky_dot
These artists are currently taking bookings! If you would like some custom blackwork done, book in now at Victims of Ink. We're open 7 days a week from 11am – 8pm.
Walk ins are welcome to book in!
We can't wait to see some more blackwork aat Victims of Ink!