Water coloured tattoos themselves are quite modern, but the art of watercolour dates back to primitive times.
The ancient paintings had to source their pigmentations from products such as urine from a cow, who were only fed certain foods to maintain the colour. The colour red was created by Cochineal insect shells that were ground.
When tattooing with watercolour, the artist relies on very fluid and rehearsed technique, for the ink to transfer well. The growing popularity of watercolour tattoos helps keep the industry of ancient watercoloured canvas art alive.
Our artist Bucky specialises in watercolour design and print.
@buckytattooist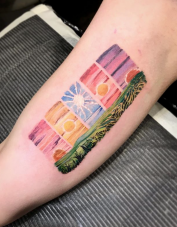 Bucky is currently taking appointments throughout our winter season!
If you're inspired by an ancient watercolour piece or a beautiful floral landscape, book with us today!
We're open 7 days a week, from 11am-8pm and all walk-ins are welcome. You're entitled to a free consultation with one of our artists to discuss or develop a custom design of your own!
We hope to see some new watercolored pieces soon!