New School and Neo Traditional have similar characteristics in the stylistic choices within the designs. Also the influence from Japanese aesthetic and Art Nouveau are always present.
The bold black lines keep all the vibrant colour inside the design, while the large scale illustrations make the ink stand out from your body.
The development of ink and pigmentation gives the artists a chance to use fluorescent tones and neons in their work.
New School revolves their designs around cartoon-like characters. The style is heavily influenced by anime, Disney concepts and characters, cartoons, comics, manga, TV shows and video games.
Once the internet was a fully functioning search engine in 1995, the world was hit with easy accessible visuals and characters which inspired different designs for tattoo artists.
The New School designs are worn by those dedicated fans of the pop culture era, in Japan this community claimed the term 'Otaku'.
Graffiti was another form of inspiration for the New School tattoo designs. The bright vibrant colours, swooping lines and drop shadows used within graffiti have influenced New School designs, or even feature in the illustration itself.
In Australian culture, Neo Traditional and New School are quite similar, as New School is an American artwork style.
Here are some examples of our artists spectacular designs.
@hanytattoostyle
@miky_dot
@jaketattoos_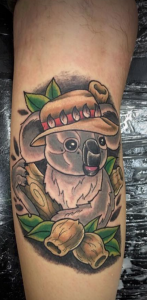 If you would like your own spin on New School or a favourite character or illustration you want amplified into an amazing art piece, book in at Victims of Ink this winter season!
We're taking bookings for Jake and Mickey! We're open 7 days a week from 11am-8pm, all walk-ins are welcome!
We hope to see you here soon!